Winning Political Debates
Proven Techniques for Success
Randy Evans & Michael Hester
Our contribution to the scholarship on political debates. A guidebook for both candidates and campaigns alike, one that either party could benefit from.

~ M. Hester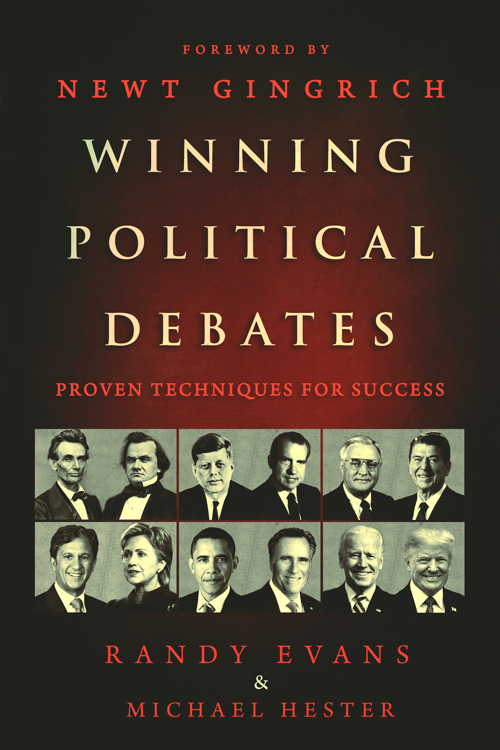 Foreword by Newt Gingrich
Buy Now
This book is written for those who want to learn how to win political debates-for the candidates and campaign teams trying to optimize their electoral chances; for the consultants searching for best practices that they can peddle to candidates; for the political junkies who are always excited to learn more about the inner workings of political campaigns; and, yes, even for the "ordinary" citizens who would like to learn more about why candidates do what they do on stage. After reading this book, you will think of political debates differently than you ever have before.
A detailed account of the best practices for successful navigation of political debates is presented, breaking down what candidates should (and should not) do in debates, as well as what campaign teams should consider when negotiating logistical details with debate hosts, media outlets, and the opposition. Examples from actual debates is used to illustrate points and validate the accuracy of the advice being given.
Because of the national significance of presidential debates (and their place in the general public collective memory), nearly all of the examples provided are from the three types of presidential debates:
Primary debates between presidential candidates of the same party
General election debates between candidates who have successfully won their party's nomination
Vice presidential debates, which occur between individuals chosen to be second-in-command by the candidate at the top of the ticket.
---
Reviews
"If anyone knows political debate, it's Randy Evans and the debate program that trained him. That they have now opened the playbook for the candidates to read is an opportunity no one should miss. For those interested in debate in the political arena, it is a must read."
~ Former Congressman J.C. Watts
"As national Presidential debates were springing onto TV screens throughout the United States, my vantage point was a little different. In working with candidates and campaigns, it was notable to see who got it and who didn't. Now, we can see why some did and some did not."
~ Bill Shine, Former Co-President of Fox News and Fox Business Network, Fox News Channel
"Evans and Hester are serious students of rhetoric who came to their craft under the guidance of their college debate coach, Dr. Chester Gibson. They distill two lifetime's experience as practitioners of oral advocacy into very practical advice about the unique format of political debates. It's a must-read for candidates, campaigners and activists in any sphere."
~ Former Harvard University Debate Coach Dallas Perkins
Bold
C

o

l

o

r

s

Publishing

We believe in supporting authors who provide insight and thoughtful perspectives for all Americans to enjoy and learn from while opening opportunities for authors who may not fall within the traditional publication rubric.
Media
---
Need to schedule an interview with co-author Michael Hester?
Review copies are available for members of the press and book reviewers.
Phone: (770) 362-9435
Contact Us